Product Fair Value Assessments
properties.trackTitle
properties.trackSubtitle
In accordance with FCA PROD Rules 4.2.29 R, we are sharing the following information about our products with our distributors:
Product target market statements - containing key information about the intended target market of each standard product. Our target market statements are intentionally provided at category level to clarify who our products are designed for, who they are not intended to support and how we expect the product to be distributed to clients.
The outcome of fair value assessments

- these provide you with the outcome and conclusion of the full fair value assessment that we have completed
The information displayed on this page is intended for distributors only and must not be provided to the end customer / insured.
Please speak with your underwriting contact directly if you require specific product information to share with customers, such as policy wordings and IPIDs.
Product Governance Process
NMU is a coverholder of and underwrites on behalf of Munich Re Syndicate Ltd (MRSL). MRSL has an established Product Approval, Oversight and Governance process, which is summarised below. This process applies to all non-large risk and non-reinsurance products distributed to consumer, micro and small to medium sized enterprises.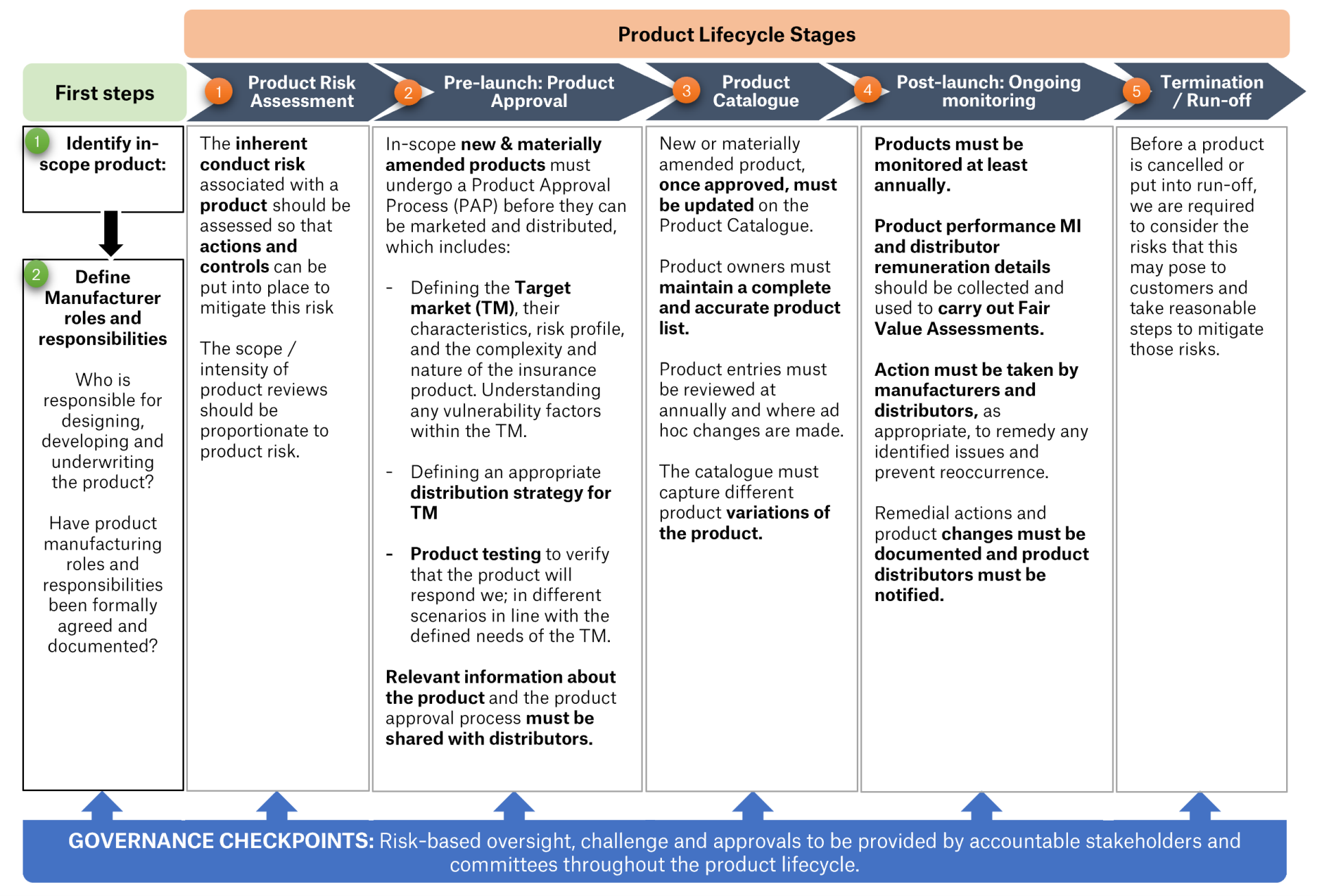 There is a product approval process for new and materially-amended products, and on an annual basis we carry out fair value assessments for all in-scope products.
Fair Value Assessment Criteria
We assess whether our products and services deliver fair value by considering the relationship between overall price paid by our customer and the quality of the benefits and services that they receive. The assessment of fair value may include review of the following management information, plus feedback and insights obtained throughout the product lifecycle:
Benchmarking against other insurers
Premium adequacy
Renewal retention rates
Internal loss ratios
Other claims data, e.g. speed of settlement and relative frequency declinatures
Lloyd's loss ratios
Commission ranges
Complaints data
Distributor feedback
The following is excluded from the review and as a distributor you must consider:
Any additional fees that you charge a customer and the effect on the value of the product
Any ancillary or additional products (including Retail Premium Finance) sold alongside the product which may affect the value of the product or duplicate cover provided by the product
Distributor responsibilities
Distributors are required to provide manufacturers with information on remuneration and services provided in the chain as set out under the PROD rule 4.2.14P R. In order to provide such information, we have created a Product Information Exchange Questionnaire for distributors to complete.
We expect distributors to disclose the nature and basis of remuneration to the customer and to ensure that remuneration does not conflict with the customers' best interest rule.
Target Market Statements and Fair Value Assessments